French riders sweep HH Sheikh Mansoor Festival-supported Belgian endurance ride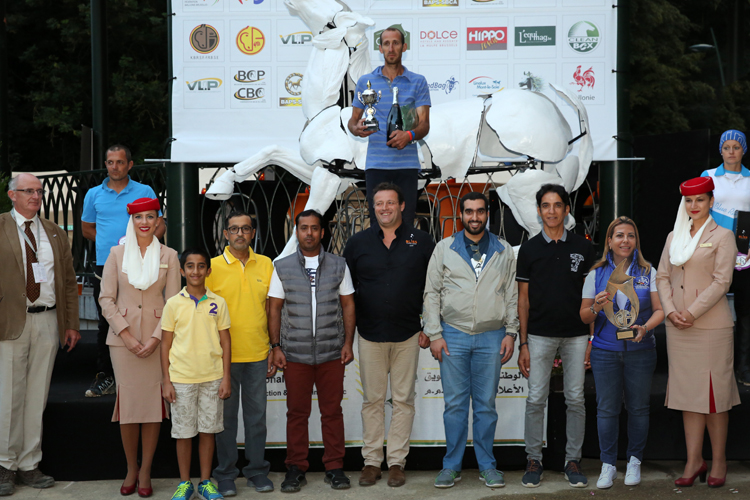 Brussels, Belgium - It was a French 1-2-3 led by Vincent Gaudriot on 9-year-old Tahar Du Barthas in the HH Sheikh Mansoor Bin Zayed Al Nahyan Global Arabian Horse Flat Racing Festival-supported Brussels Equestrian Endurance Masters (BEEM) 160-km ride on Thursday, August 18, at the Sonian forest region near the city of Brussels.
Gaudriot who was fourth in penultimate stage of the five-stage 160-km ride, finished first with a time of 9 hours 8 minutes and 26 seconds recording an average time of 17.50kmph.
It was a reversal of the fourth stage placing as Julien Goachet on Ulyssa De Coat Fritty who was third at the penultimate finished second while second-placed Virginie Atger on Quersane Des Pins, second going into the final loop, was pushed to third place.
The 160-km ride was the first of the three-day Brussels Equestrian Endurance Masters (BEEM), the result of a three-year pact between the Royal Belgian Federation of Equestrian Sports (FRBSE-KBRSF) and the HH Sheikh Mansoor Bin Zayed Al Nahyan Global Arabian Horse Flat Racing Festival.
HH Sheikh Hamad Bin Majid Al Qasimi, Second Secretary of the Embassy of the United Arab Emirates in the Kingdom of Belgium, Saif Awani of Al Awani General Enterprises, Mussalam Al Amri of Al Jazeera Stables and Ms Lara Sawaya, Executive Director of HH Sheikh Mansoor Bin Zayed Al Nahyan Global Arabian Horse Flat Racing Festival, Chairperson of the International Federation of Horse Racing Academies (IFHRA), Chairperson of Ladies & Apprentice Racing Committees in the International Federation of Arabian Horse Racing Authorities (IFAHR) and Pierre Arnould of FRBSE-KBRSF gave away the awards to the winners of the ride.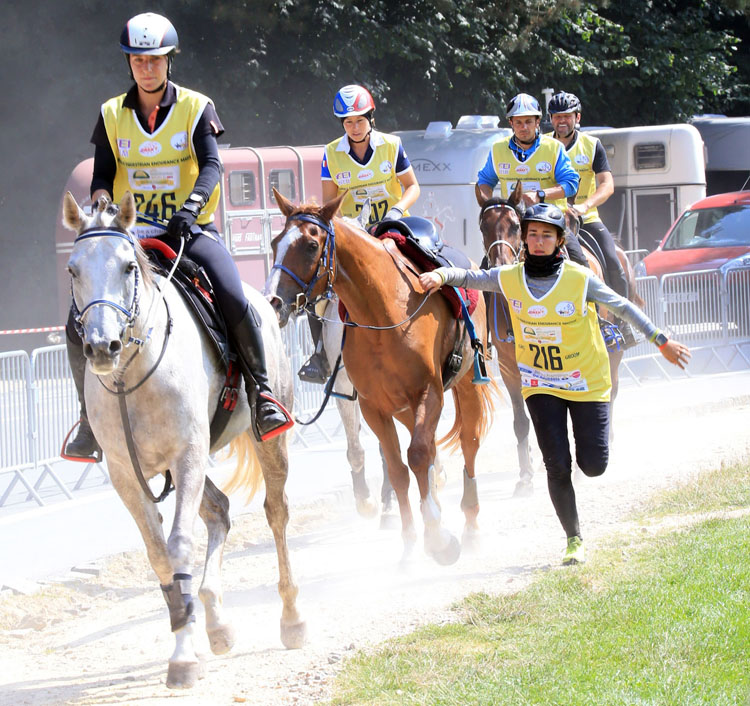 HH Sheikh Majid, the UAE envoy, said it was a great start for the sport of Endurance in Belgium and the region. "I thank HH Sheikh Mansoor Bin Zayed Al Nahyan, Deputy Prime Minister of the UAE and Minister of Presidential Affairs and the UAE leadership for the great care they provide to nurture and help UAE heritage sport like endurance grow all over the world."
Ms Sawaya said, "This event has all the signs of growing bigger and better in the future. We are delighted to partner Belgium in the growth of endurance here."
The HH Sheikh Mansoor Bin Zayed Al Nahyan Global Arabian Horse Flat Racing Festival is sustained by the Abu Dhabi Tourism and Culture Authority and coordinated by Abu Dhabi Sports Council, with National Feed and Flour Production and Marketing Co. LLC as associate sponsors, IPIC as Strategic Partner, The National Archives as the official partner and Emirates airline as the official carriers, in cooperation with Emirates Racing Authority, IFAHR, Emirates Arabian Horse Society, Ministry of Foreign Affairs, General Authority of Youth and Sports Welfare and sponsored by Al Aweer Stables, Ayadii LLC, Global United Veterinary Services LLC, Bloom, Petromal, Rise General Trading Co. LLC, Hayatna, Wathba Stallions, Abu Dhabi Falconers Club, Emirates Falconers Club, Mohamed Bin Zayed Falconry and Desert Physiognomy School, Abu Dhabi National Exhibition Centre (ADNEC), Al Awani General Enterprises, Kabale, Omeir Travels, Dr Nader Saab Switzerland, Laboratories Fadia Karam Cosmetics, YAS Channel, Racing Post, Paris Turf, Al Wathba Centre, the UAE's General Women's Union, The Supreme Council for Motherhood and Childhood, the HH Sheikha Fatima Bint Mubarak Ladies Sports Academy, Abu Dhabi International Hunting and Equestrian Exhibition 2016, Abu Dhabi Equestrian Club, Eastern Mangroves Suites-Abu Dhabi by Jannah, Anantara Eastern Mangroves Spa and Resort.
Source: HH SH Mansoor Global Arabian Flat Racing Festival / Satya Narayan
Photo: Morhaf Al Assaf